Étymologie :
* A.LF. Rivet & Colin Smith , p 441 :
SOURCE
- Notitia Dignitatum, XL34 : "Tribunus cohortis primae Cornoviorum, Ponte Aeli".
DERIVATION. This is Latin, 'Hadrian's Bridge'. Aelius was the gentile name of Hadrian. ND's form with locative Ponte seems to show that Aeli is a no longer variable genitive, so that Pons Aeli(i) seems the more likely form for the name in the nominative. However, adjectival Aelius is possible, and was used elsewhere: the Roman name given to Jerusalem was Aelia, and there was another in north Africa (AI 554, TP); also Aeliana in Armenia (ND Or. xxxviii24). We are fortunate in knowing the precise origin of the pons at Newcastle. RIB 1319 and 1320 are a pair of altars dedicated respectively to Neptune and Oceanus by Legio VI, apparently on their arrival from Germany: 'The bridge ... named after Hadrian and designed as the original starting-point of Hadrian's Wall, must belong to the inception of the Wall in A.D. 122.'
IDENTIFICATION. The Roman fort at Newcastle upon Tyne, northumberland.
* JC Even : Le nom est basé sur Pons = pont : ouvrage de passage au-dessus d'une rivière + AElius : prénom d'empereur Hadrien, empereur romain qui a donné l'ordre de mise en chantier du Mur qui porte son nom.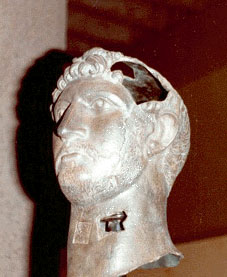 Buste d'Hadrien
Photographie JC Even, 1983.
(by the courtesy of the Museum of london)
*****
* Eilert Ekwall : "Novum Castellum, 1130 P; Nouum Castellum super Tinam, 1168 P; Novum Castrum, 1254 Val.". = nouveau château, nouvelle forteresse, datant d'après la conquête normande.